Weiterführende Informationen
Top content
Publication in Photonics
Nonlinear Diffuse fs-Pulse Reflectometry of Harmonic Upconversion Nanoparticles
Christian Kijatkin, Juliane Eggert, Sergej Bock, Dirk Berben, Laura Oláh, Zsuzsanna Szaller, Zsolt Kis & Mirco Imlau
19 February 2017
Publication in Scientific Reports (Nature Publishing Group)
Atomic insight to lattice distortions caused by carrier self-trapping in oxide materials
Felix Freytag, Gábor Corradi & Mirco Imlau
14 November 2016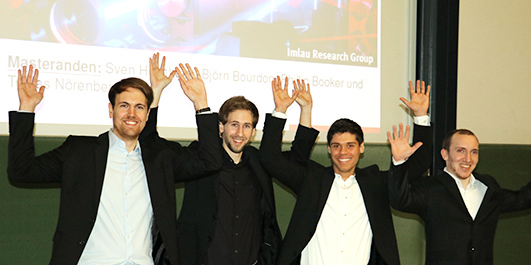 Congratulations to our masters graduates!
We congratulate Sven Hochheim, Björn Bourdon, Phillip Booker, and Tobias Nörenberg (left to right) for completion of their masters studies!
28 September 2016
Hands on the Nobel Prize Medal
PhD student Stefan Nolte was invited to be one of 400 young scientists to meet 29 Nobel Price Laureates at the 66th Lindau Nobel Laureate Meeting 2016 in physics.
13 July 2016